Videos can prove to be a useful tool in the marketing arsenal of a D2C brand. 91% of businesses have used videos in one form or another for marketing purposes. Below are a few types of videos D2C brands can use to promote their products, increase brand awareness, reach new customers, and more.
Create Brand Story Videos
Through brand story videos, you can communicate many things with your audience. You can tell them about the origin of your brand, product ideas, and processes. You can also communicate your brand's nature and values.
This kind of video gives viewers a chance to understand your brand at a deeper level. In turn, this can significantly impact customer loyalty and purchase decisions. 77% of consumers say they buy from brands that share their values. Through brand story videos you can declare your company's values to the customers.
When creating brand story videos, it is important to make them personal and emotionally engaging. The video should communicate the journey of the company from ideation to its current standing. You can also talk about the type of people in the company, the work culture, the environment (city or state of origin), and so on. These elements help make the story seem more grounded and personal.
It is also necessary to tell people where you intend to go as a brand and the things you wish to achieve for the customers. You can also create videos on different processes of your company. You can depict the journey of the product from raw materials all the way to courier mail service delivering the product to the customer.
Create Customer Persona Videos
Through customer persona videos you can appeal to different types of audiences in a targeted manner. For example, let's say you are selling sunscreen cream. If you create a general video explaining the benefits of the cream, it might not connect deeply with any target audience. Instead, you can create different videos for promoting the cream to beach-goers, urban cyclists, and working women.
By creating different videos for different customer personas, you can add a layer of personalization to the product's appeal. This type of video is also more relatable for a niche target audience. Instead of addressing the general needs and desires of the general market, you can focus on how your products solve the problem for a particular type of people.
Customer persona videos increase the probability of appealing to and converting niche audiences. You can also take a step further and create personalized videos for certain segments of your customer base.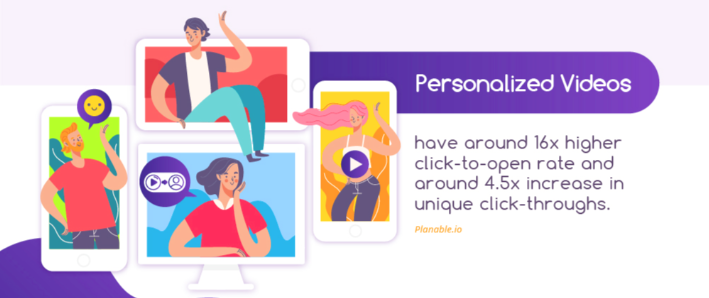 You can create personalized videos for holiday greetings, offers, loyalty programs, and so on. These videos should specifically address one customer or one type of customer. Even if the message is the same in different videos, each customer should feel that your brand has created a video, especially for them. Personalized videos can help you better reach out to your target audience. They also improve the probability of sales and can prove instrumental to instill brand loyalty.
Gather User Generated Videos
D2C brands can benefit from different types of user-generated videos in various ways. First, they can serve as a trust-building element to attract customers. 58% of consumers find user-generated videos more believable than brand-created content.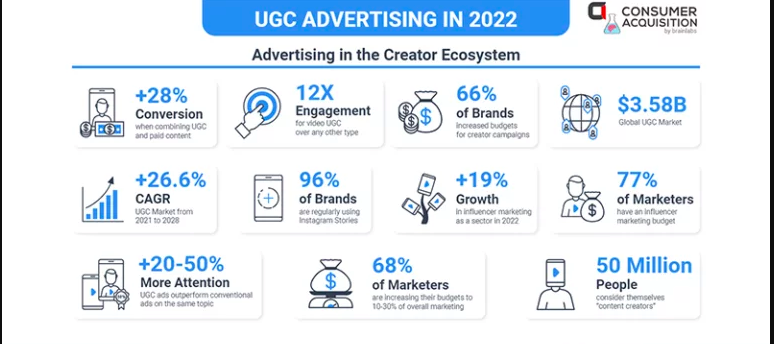 Second, they can serve as customer persona videos. They can show the audience what kind of people are using your products. This can help you attract similar customers. 79% of customers agree that user-generated videos created by consumers influence their purchase decision. And third, user-generated videos are great for promoting products and brands on social media. User-generated content gets more shares and engagement than advertisements.
D2C brands can create different types of user-generated videos such as testimonials, point-of-view product demonstrations, tutorials, unboxing, quizzes, and more. To gather such videos D2C brands can run online contests, quizzes, or loyalty programs. You can further incentivize the customers by offering deals, offers, or exclusive merchandise.
Create Video Tutorials & Product Demos
Tutorial and how-to videos are the third most popular types of videos on the internet. D2C brands can use tutorials and product demonstration videos in several different ways. These types of videos can help you target relevant audiences who are actively searching for a solution. These types of videos are also useful to boost your website's SEO for relevant search terms.
For example, let's say your D2C brand sells camping goods. Tutorial videos on how to put up a tent or how to survive in the wild would help you reach relevant audiences.
They can also serve as a user guide for customers who have already bought the product. In the above example, the "How to put up a tent" video can serve as a user guide for your customers.
You can also create tutorial videos to show people various ways to use your products. It can also help you target different types of customers for the same product. Keeping with the above example, you can also create videos like, "How to convert your tent into a playhouse for children".
Add Videos to Email Marketing
Videos can significantly improve your email marketing efforts. According to the 2022 benchmark report by Mailchimp, emails with videos have a higher average open rate and click rate compared to other elements. A D2C brand competing for the audience's attention can benefit significantly from such an advantage.
You can incorporate videos in almost all types of promotional and customer communication emails. This visual element will make the email more enticing. Instead of using just images to promote your holiday offers, you can create a video that presents the holiday offer and showcase your products alongside.
Alternatively, you can also design email marketing campaigns based on the videos you have created. Such campaigns can help you increase brand awareness, reach relevant audiences, boost sales, or educate existing customers.
For instance, let's say your D2C brand sells make-up kits and you have created a video for bridal make-up ideas. You can create an email marketing campaign using this video to promote your product and brand for the wedding season.
Conclusion
When it comes to creating videos, D2C brands are only bound by their creativity. You can use the visual medium to communicate a variety of ideas, values, and information in unique ways. But, ensure that each video you create resonates with your targeted audience.
It is also worth remembering that videos are a versatile communication tool. You can use it for emails, social media, YouTube, and direct messaging. You can also use video to target high-volume search terms. A D2C brand can achieve several marketing goals with just one good video.
Author: Oliver Thyra, head SaaS copywriter, and content strategist at Your Marketing Digest.