Do you know a surefire way to avoid those boring, yawn-inducing presentations? Add a presentation video.
Giving a presentation in front of so many people is nerve-wracking for some. You've practiced a thousand times, studied your topics back and forth, got your notes and all materials ready.
After all the things you've gone through, the audience still finds it downright boring.
Maybe that's because you rely heavily on those 35-slide presentations, no visuals, only texts. Those colorful, dynamic PowerPoint slide designs don't help much. And I can say whoever can stay focused and remember all the things you said until the very last slide is superhuman.
If you want to make your presentation stand out, more fun, and more importantly, more digestible, try to insert presentation videos.
What Can a Presentation Video Do For You?
Adding a video or two will break up your slides in a smooth and effective way that will keep your audience more focused and engaged with the overall content.
That way, they can easily retain the information you deliver without trying way too hard. Here are five ways that video presentations can make all the difference:
Tell Stories and Provoke Emotional Responses
Storytelling is one of the most powerful ways to communicate a message. When done well, it can stir emotions and create connections with your audience.
Telling stories in your presentation videos can help you capture and keep your audience's attention.
In addition, storytelling with the background music and even characters you use in the video also provides an opportunity for you to share insights and provoke emotional responses.
That way, you can get your audience to relate to the message and feel inspired by it.
Convey Your Messages Better
Videos, in general, are well-known for their ability to break down even complicated, complex topics in a way that makes them easier to understand.
You can present complex ideas, theories, and concepts in an engaging manner by using presentation videos. As you do so, keep your target audience in mind at all times.
So, instead of providing your audience with endless slides just to get your whole information across, you can rely on one single presentation video.
You can also use animation like motion graphics or videographics to make the video content easy to follow and much easier on the eyes.
Create Strong Impression in the First Few Seconds
Your audience will only give you a few seconds to make a good first impression.
That is why it is important that your presentation videos are interesting and engaging right from the start. You can do this by using an attention-grabbing intro, putting a face to your voice, or even starting with a powerful statement.
Anything you can do to hook them in and keep their attention focused on the video is worth trying.
Remember, getting them interested in the first few seconds is key when it comes to giving a memorable presentation.
Increase Purchase Intentions
This one is for the business-minded folks. If you deliver a presentation to your prospects, you can use a presentation video to move them through the sales funnel.
By inserting a video, you can visualize your pitch or ideas, even show them how your products or services work.
This way, you can gain the trust of your audience because they see what they expect to get.
When Do You Need to Add a Presentation Video?
Now that you understand the benefits of well-crafted presentation videos, you might be wondering, "oh, great, but how do I know that I really need one for my presentation?"
Adding a presentation video to your arsenal of content marketing tools is always a good idea, but there are some instances where it is more crucial than others.
Here are some signs that you might need to create a video for your presentation:
#1. You Host a Webinar
Webinars are a great way to deliver information to a large audience. However, they can be quite dry if there is no visual aid accompanying the audio.
By adding a presentation video, you will get a chance to increase 61% of attention at virtual events.
You can help keep your audience more engaged and make sure that they get the most out of your webinar.
In addition, you can use the video to convey your messages in a way that is easier for them to digest.
Most importantly, if you are conducting a webinar with other people, adding presentation videos will make it much more interesting and engaging for everyone involved.
#2. You Have Complex Messages to Deliver
If you are trying to communicate complex information to your audience, using a presentation video is the way to go.
Not only will it help keep them more engaged, but it can also make the process of understanding what you're saying much easier.
In fact, you can use animation and motion graphics to create explainer videos that will help break down your complex concepts into easy-to-follow visuals.
Remember, even if you are dealing with a sophisticated or highly educated audience, they still need to be able to understand what you're saying.
A presentation video can make that possible.
#3. The Topic of Your Presentation is Difficult to Visualize
If your topic is difficult to visualize, using a presentation video can be very helpful.
For example, if you are giving a presentation on quantum physics, it might be difficult for your audience to understand what you're talking about without some sort of visual aid.
However, by adding a well-made presentation video, you can help them see the concepts that you are discussing in a more concrete way.
This is also true for topics like history, economics, and other subjects that might be difficult to understand without some sort of visual representation.
#4. You Want to Impress Your Audiences
If you want to impress your audience, a presentation video is the way to go.
Providing a presentation video means that you've come fully prepared. You care about your presentation with your whole heart.
That's how you create a long-lasting first impression.
Also, not only will the video help keep audiences' attention focused on what you are saying, but it can also make them more likely to listen and understand what's being said.
Best Types of Videos for Your Presentation
Now that you know when to use a presentation video, it's time to start thinking about what type of video would be best for your needs.
There are many different types of videos that can be used for presentations, but some work better than others.
One thing that needs to bear in mind is that short-form and straightforward videos are the best types for presentation.
Here are the three best types of videos for presentations:
Motion Graphics Videos
Motion graphics videos are one of the most popular videos many businesses used in video marketing campaigns.
This simple yet intriguing animation is a great way to communicate complex information in an easy-to-follow way.
They are also very visually appealing, which can help keep audiences' attention focused on the video.
Those seamless but simple motions can make audiences feel comfortable, not bored of the same thing over and over again.
Whiteboard Videos
If you need to convey more complex information in a simple way, whiteboard videos are your best bet.
They use drawings on a digital whiteboard that are brought to life with animation and music.
This can make it easier for audiences to understand difficult concepts. It puts them in a study-like environment, which makes them feel comfortable while learning complex information.
Screencast Videos
If you have a PowerPoint or other presentation format that needs to be converted into video form, screencast videos are the way to go.
They take your slides and turn them into an engaging visual experience for audiences by adding music, animations, and more. Screencasts are perfect for repurposing content that already exists.
Explainer Videos
Explainer videos are great for breaking down complex concepts into easy-to-follow visuals.
They can be used to explain a wide variety of topics, and are perfect for presentations that involve a lot of technical information.
You can also use animation and create fictional characters to tell a story and make the presentation more engaging for the audience.
For a better-looking, more versatile explainer video for your presentation, you can invest in a professional production from an explainer video company.
Videographics
Videographics are a great way to share data in an engaging way.
They use infographics and motion graphics to illustrate statistics, trends, or other types of information that might otherwise be difficult for audiences to understand.
So, if you need to deliver tons of data or statistical numbers in your presentation– and want to make it more engaging for audiences, videographics are one of the best options.
How to Create a Well-Performing Presentation Videos: A Quick Checklist
Not all presentation videos work the same, though.
Well-crafted ones bring you the results you want, but poorly-crafted ones can bring more harm to your presentation than good.
Below are some essential, best practices you should consider when creating your presentation videos:
Understand Your Audiences
The more you understand your audiences, the higher chances you'll have to connect with them and speak their languages.
In this way, you'll communicate knowledge and the right message to your audiences.
Keep the Video Script to the Point
Long intros and big fluffy explanations can only make your audiences even more bored. So, don't stray from the message.
Remember that the video acts as a visual aid, so it's crucial that you keep the video script straightforward so that your core messages can be delivered smoothly and easy to retain.
Make the Videos Short and Sweet
The presentation video should help you communicate your messages in a straightforward yet engaging way.
That's why it's important to keep it short and concise. It's always best to keep it under 5 minutes.
Add Engaging Elements
Enrich your video presentation with useful and interesting elements, such as interactive mini-quizzes, background music, or even a simple customized animated character.
End on a Meaningful Note
A good presentation video always leaves the audience with something they can take away from the presentation.
You can add a thought-provoking question, or even a link to your website can work to provide a strong ending that can create a lasting impression.
Pick the Right Video Format
PowerPoint allows you to save your presentation in these video formats:
MPEG-4 (or MP4 / .mp4)
Windows Media Video (.wmv)
MOV (if it's PowerPoint on a Mac)
MPEG-4 is the most common video format and is widely supported. You can opt for this format if you have PowerPoint versions of 2013, 2016, or 2019.
Meanwhile, while you're using PowerPoint 2010, the Windows Media format would work best and more preferable.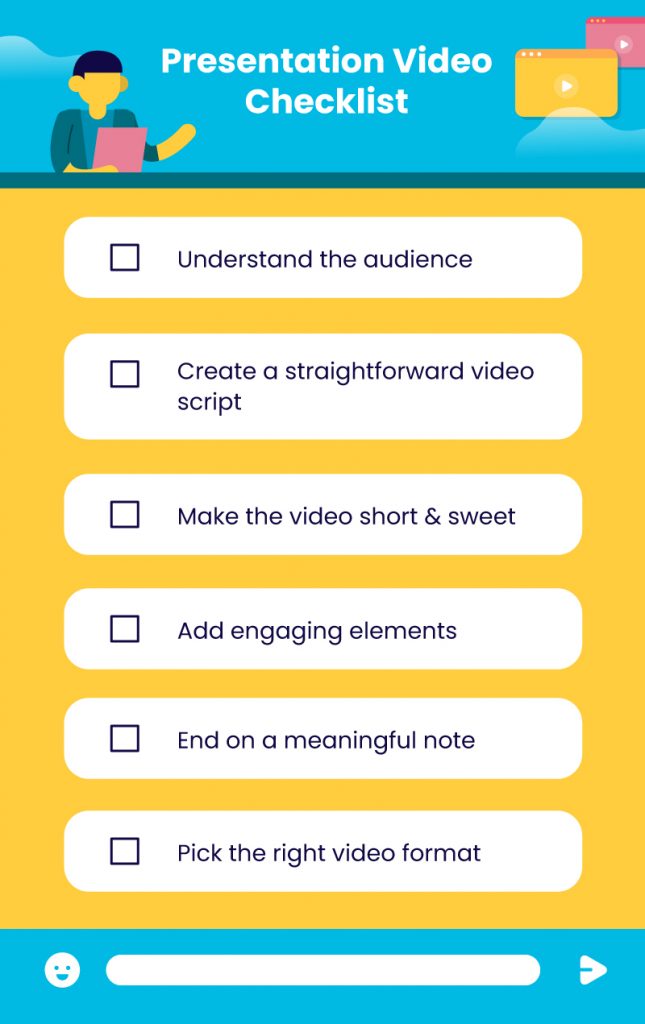 Tools You Need to Make Great Presentation Videos
Creating a great presentation video might seem like a daunting, backbreaking task.
In fact, there are some video tools you can use to make the production process thousands of times easier. Thanks to the internet.
We've listed some of our favorites below:
Powtoon

Powtoon is unique because it allows you to create animated presentations that are geared toward the web. The platform features tons of templates, voice-over capabilities, and special effects including transitions and objects for making interactive presentation videos.
VideoScribe
VideoScribe is a highly popular and intuitive presentation video creation tool. It helps you to create professional-looking whiteboard animated videos.
The website features an object-based visual scripting language for building presentations, which can be exported to .SWF, .HTML5 and .MP4 formats.
Camtasia Studio
The perfect screencasting software, Camtasia offers a wide range of tools including voiceovers and video editing. It's also exceptionally easy to use.
You can even create tutorials for websites or walkthroughs for your apps! All you have to do is start recording your screen, edit as you see fit, and save the final file as a video.
Keynote
This particular presentation software has an additional bonus. If you're looking to create a video out of your Keynote slides, all you have to do is highlight the text and images, click export, and pick one of the many video resolutions. From there, just save it as a .mp4 file
Biteable
Biteable helps you to create presentation videos hassle-free. All you have to do is upload the slides, enter your text, choose a background music track, and download the ready-made video. There are tons of templates you can use to craft presentation videos in minutes.
Make Your Presentations More Fun With Videos
Whether it's for educational or marketing purposes, presentation videos can help you communicate your messages more effectively if they're done right.
Your audiences can easily retain the information, and it makes it much easier for you to break down even complicated topics.
With a quick guide above, now you're ready to impress your audiences with your presentation. No more yawns, no more blank faces.