If you're searching for a short and crisp answer, the ideal length for business explainer videos is 90 seconds. This is what Google will show you. But hold on, that's not the final answer.
When it comes to video marketing strategy, there are two major challenges:
holding the viewer's attention
successfully prompting them to take the desired action
For explainer videos, these challenges vary from one company to another. For example, a product explainer video is different from a demo explainer. The former can quickly explain the product benefits, while the latter can take some time to show the product in action. Hence, the time mentioned above isn't ideal for all types of explainer videos.
In this blog post, you will discover the ideal length for various types of explainer videos, backed by examples from some popular brands.
The Optimal Explainer Video Length Varies According to the 'Video Type'
Research of 100+ explainer videos found that the perfect explainer video length is based on the type of explainer video you want to share.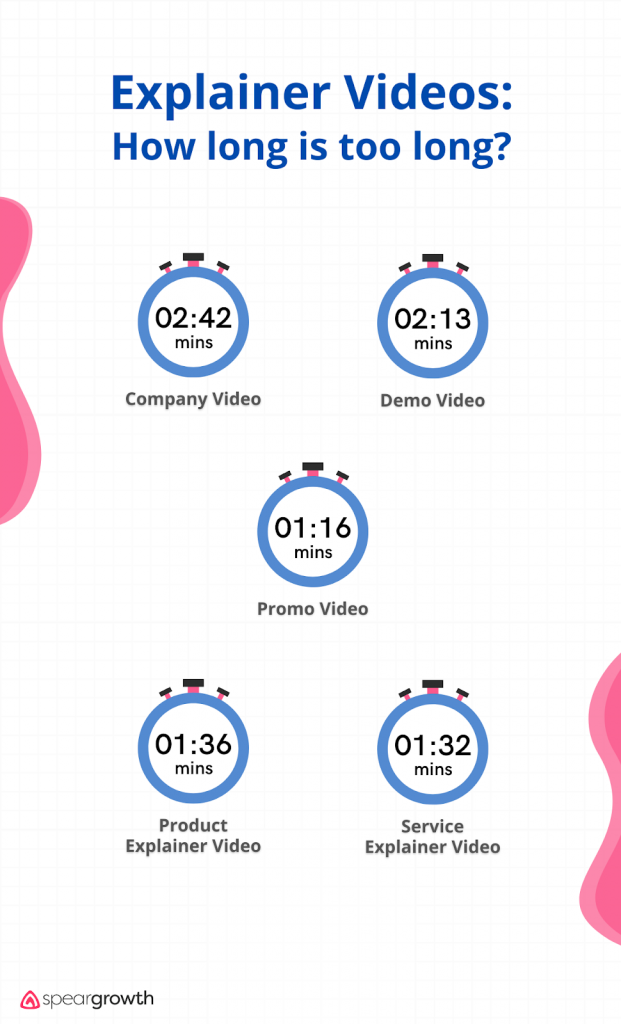 Think about these questions: Do you intend to give your company's overview of the mission/vision or goals in the video? Or do you want to show the demo of your product?
Your viewers' engagement or retention rate depends on these 'video types.' Let's elaborate on this concept and try to understand the best length applicable for various types of explainer videos.
Duration 1: Best Explainer Video Length for Companies (2 minutes 42 seconds)
If your explainer video talks about your company's work culture, environment, employees, values, and the quality of service you provide to your customers, it falls under the category of 'company video.' Explaining these components takes a bit longer as they are important for those looking for job opportunities or collaborating with your company.
Hence, you can create an explainer video length of up to 3 minutes since your audience is interested in knowing more about your company before collaborating or joining your workforce.
Here's an example of the company video of Shireburn Software Corporate, which is 2 minutes 51 seconds long.
Notice how the video explains the company's crucial aspects that are helpful for the target audience:
Initial phase and evolvement at a global level
Building a customer-focused business
Team collaboration, learning environment, and staff retention
Words of wisdom from the CEO
Duration 2: Best Explainer Video Length for Demo (2 minutes 13 seconds)
The purpose of sharing product demos is to convince the prospects to buy your product or at least get a free trial. The ideal length of a demo explainer video must therefore be around 2 minutes and 15 seconds.
Many marketers argue that the product demo should be of at least 10-minutes. But that's not true. This is because:
1. B2B SaaS decision-makers have a wide range of software options and less time to choose the best one. Hence, they won't stick around to watch a 10-minute demo video.
2. Limiting the duration makes your demo video effective and skimmable since you are forced to focus on the product's core features and eliminate the fluff.
Here's an example of a product demo video by GetProspect – an email finder software
It's great that GetProspect has mentioned its value props within the first five seconds:
"Find verified emails + Organize your leads + Launch personalized email campaigns = all in one tool."
Moreover, there's no human voice playing in the background to explain the features, and still, the content is easily digestible and convincing for the target audience.
Duration 3: Best Explainer Video Length for Explanation (1 minute 36 seconds)
Prospects aware of their pain points and searching for the perfect solution can quickly get attracted to product explainer videos. These people wish to try your product before making an actual purchase.
Your video must, therefore, address their problems and explain your product's benefits with a strong call to action (offering a free trial for a few days). To make this happen, the ideal length for a product explainer should be 1 minute 36 seconds.
Here's the product explainer video of Personizely – A Conversion Optimization toolkit
In the complete duration of 1 minute 28 seconds, Personizely creatively shares the details that matter to the viewers – audience pain points followed by product introduction, feature, and benefits overview, and a summary with a strong CTA (14-days free trial).
Duration 4: Best Explainer Video Length for Promotion (1 minute 16 seconds)
The purpose of a promo video is to promote your company's special marketing initiative, sale or event. You might have seen some companies releasing videos celebrating achievements, wishing the viewers on special days (festivals and new year), or sharing their brand stories. These are called promo videos.
Promo videos are driven by emotion. They aren't hard sells and allow you to connect with your prospects on a personal level. When you want to launch a new product into the market, sharing a promo video for around 60 seconds is enough to generate buzz.
Here's the promo video of Zoom – The Video Conferencing software. Notice how they have touched upon the emotional aspect of team collaboration through video conferencing. Nowhere have they mentioned any CTA or asked you to signup for a free trial.
Duration 5: Best Explainer Video Length for Services (1 minute 32 seconds)
Sometimes people find it difficult to understand your service from a bunch of reports or presentations. A short and crisp service explainer video simplifies the complex idea (especially in the case of financial transactions) where your audience can easily discover how your services can help them accomplish their goals or solve their pain points.
Service explainer videos are best suited for companies related to banking & finance, SEO agencies, and business consultants. To hold the viewer's attention till the end, the duration of your service explainer videos should not be more than 92 seconds.
Here's the service explainer video of ConnectPay – An online banking service
The length of this video is only 50 seconds. ConnectPay has power-packed its core services in short and snackable bits:
– Cover all your payment-related needs
– Not invest your money
– All banking services in one account
– Go beyond borders
– Easy merchant API integration
– Cover all your business expenses
How to Use Explainer Videos and See Results
These are a few case studies from B2B SaaS companies that use explainer videos in their marketing campaigns.
Use Case 1: Explainer videos as Ads
When doing demand generation, setting the right narrative is very important. It helps position your company in how you want your audience to see your brand. Make sure to use all sorts of ad formats in your experiments.
That being said, in some cases, explainer video ads have worked extremely well for many businesses. The traffic coming in from them has been very relevant. There are much lower disqualification rates on the calls booked through these ads.
There is also a 61% increase in lead velocity when companies run RT ads for everyone in their sales pipeline.
Use Case 2: Building Retargeting Audiences
This is an explainer video of about 70 seconds. When running it to a target accounts list, it's concluded an above-average video completion rate. This helped the company build its retargeting audience, which was then used to nurture and convert.
User Case 3: Explainer Videos for SEO Ranking
Create an actionable explainer video when beginning with SEO for their website. Explainer videos rank quickly compared to written content (blogs, articles, etc.). This is because:
1. The competition is less for B2B SaaS keywords and relevant topics on YouTube.
2. The frequency of producing B2B SaaS explainer videos is far less than the written content.
3. Using structured data helps your video easily rank over written content pieces on Google.
4. An explainer video on your homepage helps to reduce bounce rate and increase the reader's presence on your website.
Optimize your explainer videos using this SEO Checklist for Video Marketing!
Use Case 4: Explainer videos Conversion funnels
Another case study is to use Google or LinkedIn ads. Non-target companies often book calls to get product demos.
Their sales teams would soon find out they are wasting a lot of time and energy explaining things to non-target customers, only to hear the response 'we'll come back later.' This negatively impacted the conversion rates as many target companies couldn't book calls owing to the non-availability of open slots in the team's calendar.
To cope with this problem, brands need to create a product explainer video, and a two-step form where non-target companies would be redirected to a 'Thank You' page having the explainer video. In contrast, the target companies could easily book a call with the sales team. When implemented, these companies witnessed a reduction in junk call bookings and positively impacted their conversion rates.
Does Video Length Really Matter?
Yes, it does. This is because humans have short attention spans. This has a direct impact on video engagement. In a scenario where an endless stream of video content is flooding the internet daily, you've got to work smartly to hold your prospect's attention till the end. This is much easier when your videos are short.
Not convinced yet?
Research conducted by Wistia revealed that explainer videos of up to 2 minutes in length showed a good retention rate, while those more than 2 to 3 minutes in length witnessed a significant drop-off.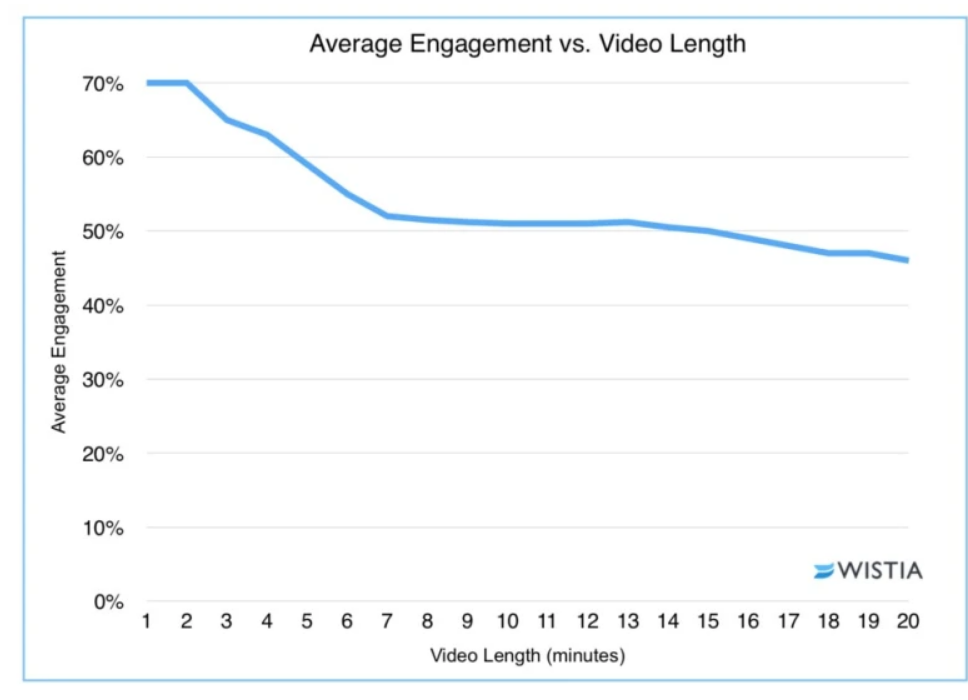 This means you have to assume that your viewers are busy (and B2B SaaS professionals are busy!). If it takes more than 2 minutes to explain an idea, your viewers can feel bored and drop off mid-way. But that doesn't mean you need to sweat over a few seconds here and there – your video can still come under the 2-minute mark with a couple of additional seconds.
Note that this rule has some exceptions. For example, if you want to show a product demo or give a company overview, an explainer video of more than 2 minutes will work since your audience is interested to know more about your product or company before making a purchase or business collaboration.
Key Takeaways
Remember, your explainer video should be able to serve its purpose effectively. Since your audience has short attention spans, the video's content must be tailored to your customers' needs and marketing objectives. These factors help you easily determine the ideal length for your explainer videos.
Simply put, your explainer video must be short enough to keep the audience engaged and long enough to share your business's core message with a quick CTA.
Author: Rashmi, B2B SaaS Copywriter at SpearGrowth.