If you want to make the most out of your product videos for WooCommerce, there are several methods that you can use to enhance your product showcase. By using the following WooCommerce product video plugins, you can create excitement for your product with existing buyers and reach out to potential customers.
We have curated the best-rated WordPress plugins so you don't have to spend hours doing further research. Let's dive in!
Categorize your videos and media attachments
Before you start, be sure you have a good organization for your WordPress media files.
If you have thousands of photos and product videos in your WordPress media library and are looking for an efficient way to organize them, you have to rely on a plugin. As WordPress's default filesystem comes in a year- and month-based physical directory, it's very difficult to sort and search in such default order.
With WordPress media folder plugins like CatFolders or FileBird, you now have a better way to create file categories as media folders.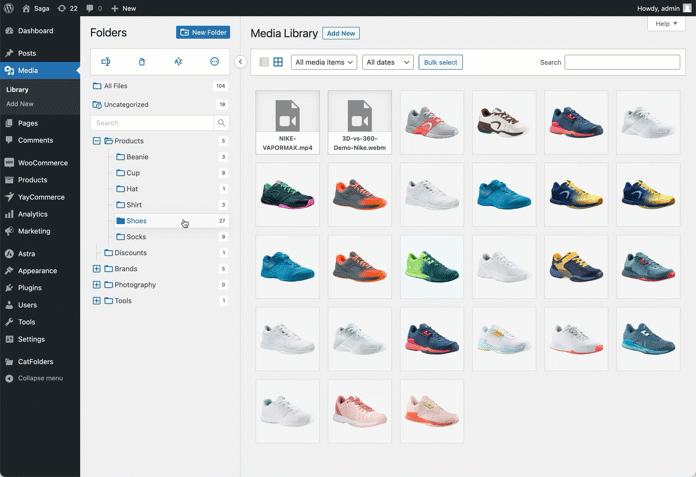 These plugins allow you to create virtual folders, so you can move files and videos between different folders without messing up with its file directory or permanent link. From then on, it becomes much easier when you want to find specific videos/images to insert into a page/post.
Add a featured video to the WooCommerce product gallery
One effective way to use product videos for WooCommerce is to add a featured video to your product gallery. This allows customers to see product images in fullscreen, with an upgraded and modern product lightbox.
By default, WooCommerce allows only still images on the product gallery. To polish your WooCommerce product image gallery with embedded video, you can use a plugin like WooThumbs for WooCommerce or VideographyWP.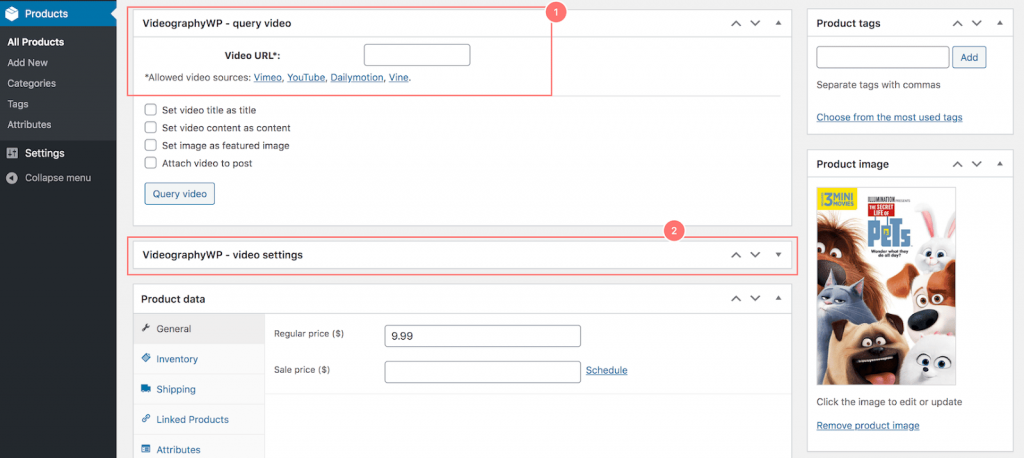 It will add extra sections to extend WooCommerce functionalities by adding more fields and settings for video URLs or multiple images per variation.
Pro tip: If you want to keep your customers engaged on your online store pages, you can use hosted video platforms like Wistia or Vimeo instead of embedding videos from YouTube.
Add WooCommerce product video to email global header
Brand matters.
Being the most valuable intangible asset in your corporate image, a strong brand enables visitors to distinguish your products from that of your competitors. You won't just sell the products, you sell through add-ons, post-purchase services, and affinity.
Starting today, let's make your products and post-purchase services stand out with these competitive email enhancement ideas.
Some of you might add a video or image slider to your website's homepage hero section. How about adding them to the header or footer of your outgoing emails as well?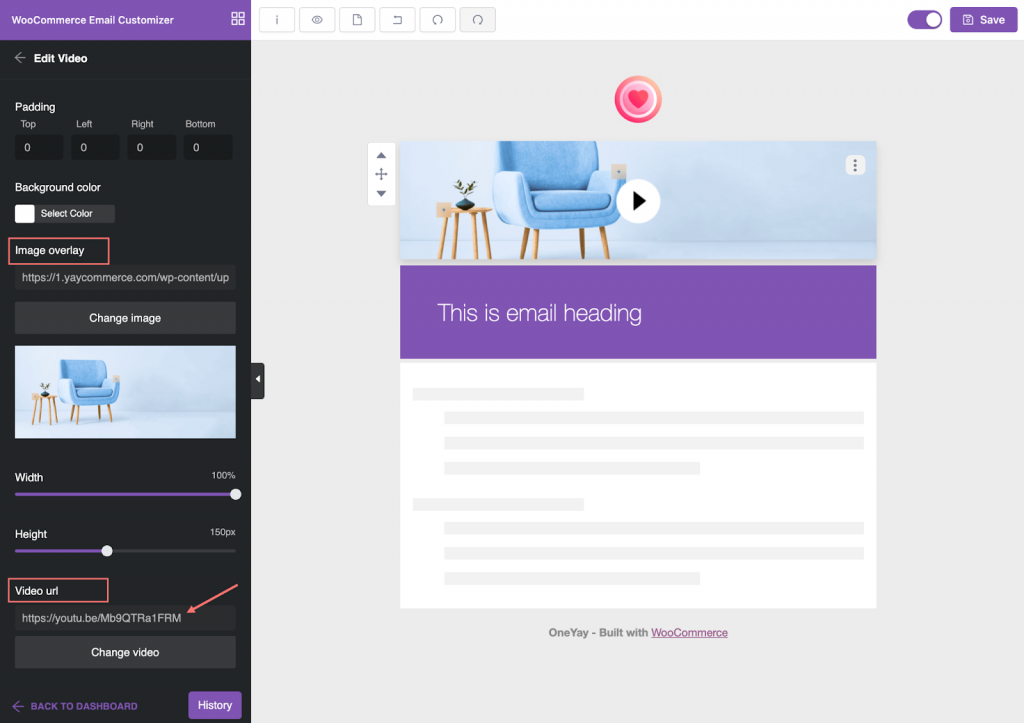 Embed reels and videos to WooCommerce transactional email
Transactional emails include signup notices, account creation, or order confirmation emails. They are triggered by specific user actions and are usually expected by the recipient. Therefore, it has a fairly high open rate and click rate!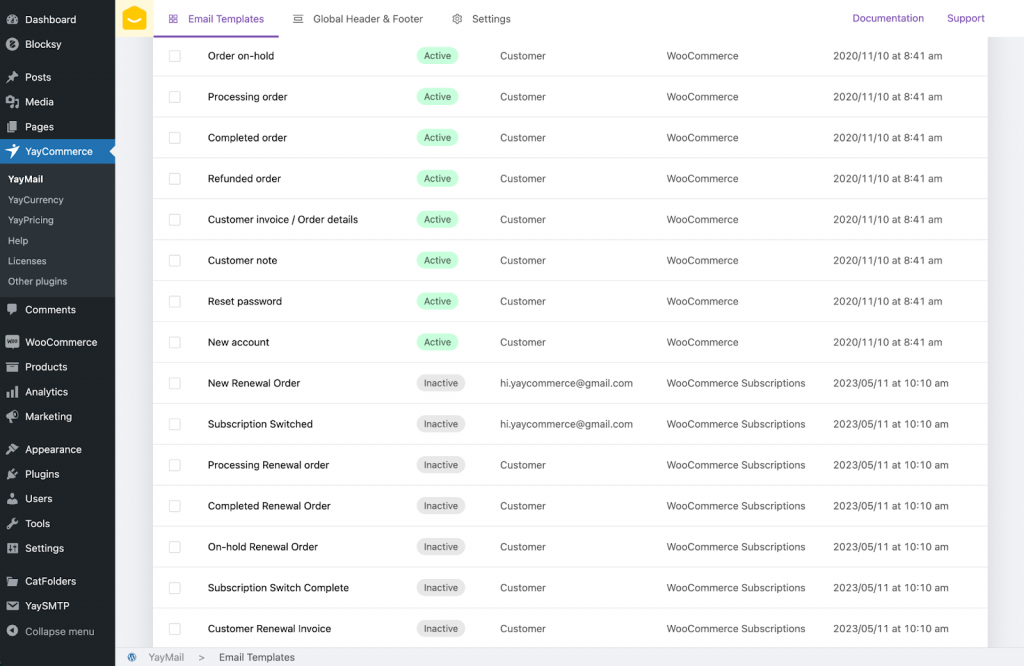 Why not take advantage of them then? By adding videos to WooCommerce emails, you can build excitement for your product with new buyers. For instance, send them the product's user manual or entice them to join your membership community.
To take it to the next level, you can tailor the email content with targeted messages. How about sending relevant mix-and-match tips from your Instagram or social media channels to the customer when they have bought a couple of T-shirts?
With a free WooCommerce Email Customizer plugin like YayMail, it's easy to insert these custom videos, Instagram posts, and reels like this.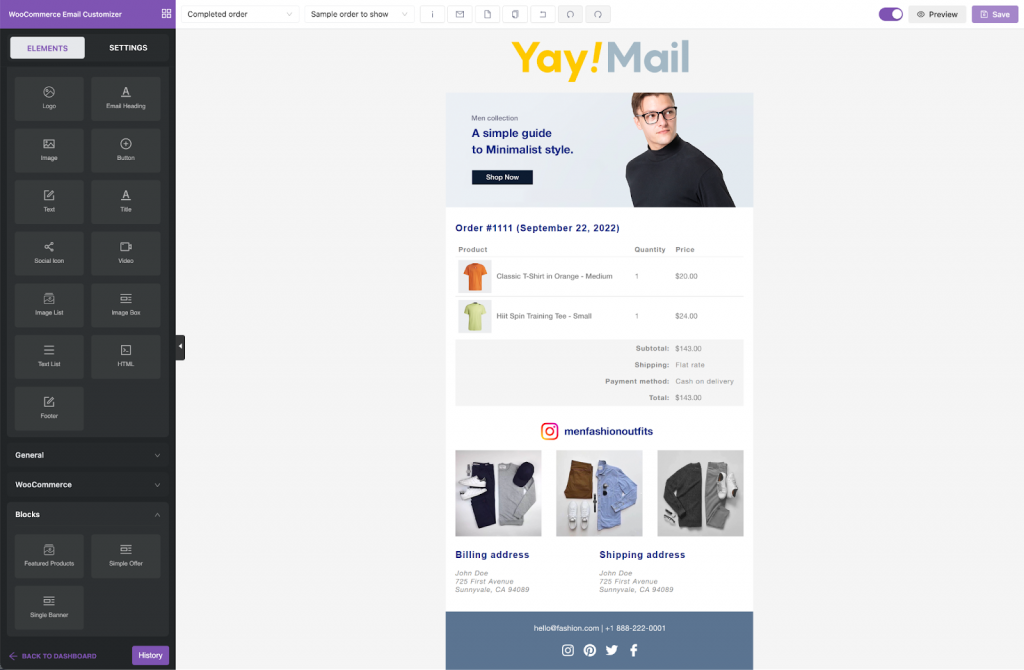 Embed product videos to WooCommerce abandoned cart email
Similar to transactional emails, marketing emails can be enhanced with further actions to create new user journeys. If they didn't buy directly from your site, they still can be interested in further in-depth UGC posts, buyer review videos, or walkthrough videos.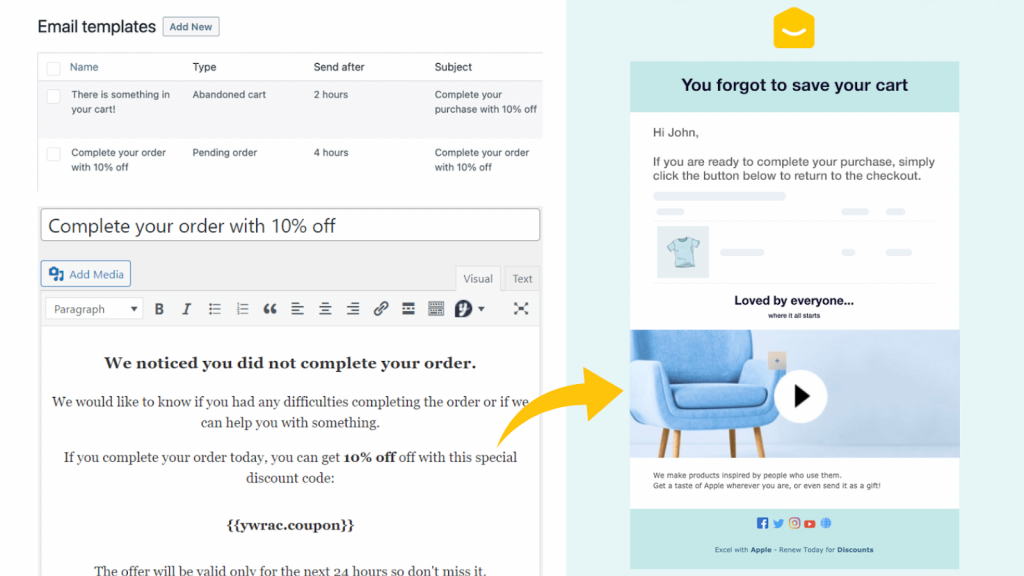 As shown above, by including these resources in WooCommerce abandoned cart email, you can provide a better buying experience for your customers. With wider visibility of your products, it increases the chances of making a sale.
Display GIF on WooCommerce product page
If used well, animation and video can be a game-changer when selling products online. Since a picture speaks a thousand words, a compilation of them would deliver an ultimate message to your customers.
With YayPricing for WooCommerce, the whole process of adding them to your product pages dynamically just becomes easier. It adds an HTML field for offer descriptions, so you can insert rich text and media to those products on sale.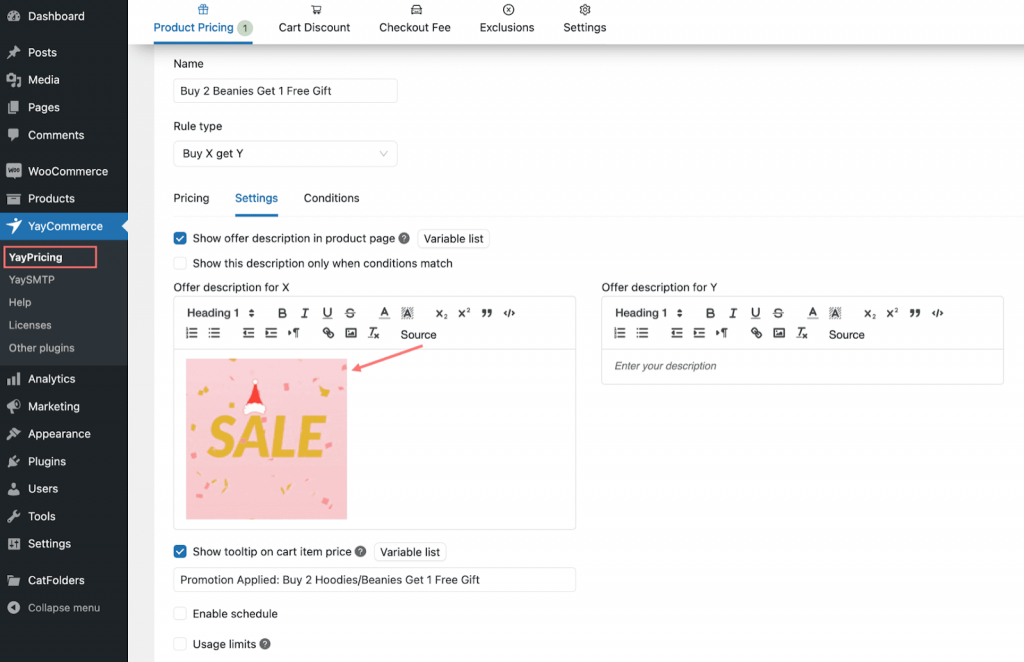 On the front end, the GIF can be a great way to grab attention and add some entertainment to your sales and marketing messages.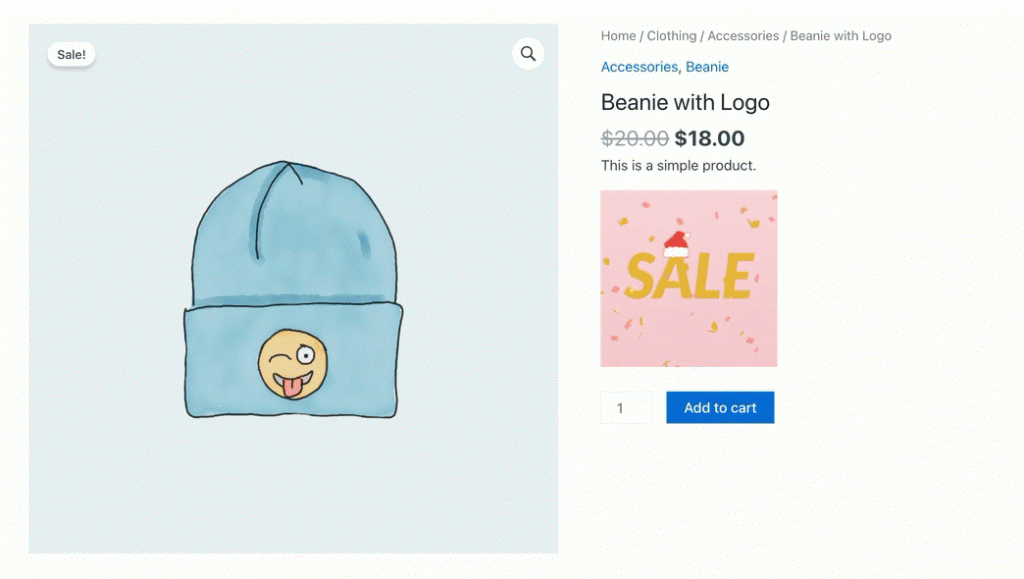 By using conditional logic display, you will be able to tailor your content with upselling messages, i.e. only B2B clients or specified customer roles will see and enjoy the discount.
Create video ads through WordPress
Apart from transactional emails, reaching out to new potential customers is crucial to e-commerce businesses. If you're running your store on WooCommerce, Mailchimp for WooCommerce can help complete your missing piece in product video marketing.

This plugin helps connect your business website to the Facebook Page, Instagram, and even Google Ads display network. Once connected, you will be able to create video ads and Instagram reels right from your admin dashboard.
Within a few steps, your new video ads will be up and running, spreading impressions to brand new people who are similar to your contacts, people with specific interests, or your website visitors.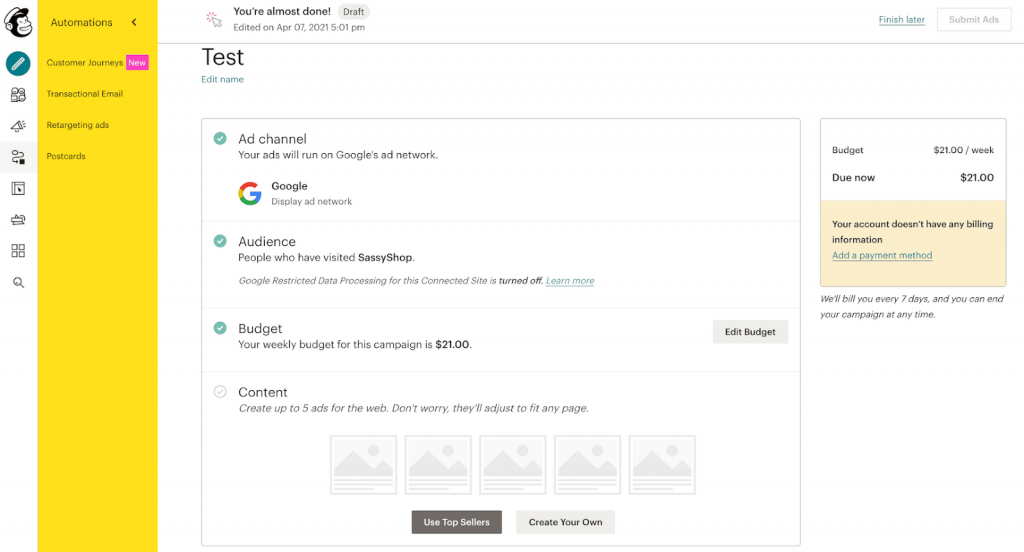 Last, but not least, try to design your ad content in different creative formats. To start quickly, create a static image ad, a GIF ad, or an ad with multiple static images in carousel format, and then video ads.
Wrapping up
In addition to crucial details like order delivery and tracking information, you should add other key benefits relevant to your products via WooCommerce emails!
With gentle calls to action for further actions, you can create a better buying experience and brand impression. To maintain consistency with your brand voice, it's important to ensure that your visual creatives align with other customer touchpoints, such as your WordPress WooCommerce website, and social media posts.
I hope from the top WooCommerce tips I share today, you will be able to implement it all quickly by yourself. To dive more into improving your video marketing content, just bookmark this post and visit this blog more often.
If you already have a video idea in mind, feel free to contact us and get hands-on assistance from Explainerd creative team.
Author: Thuy Nguyen, writer at YayCommerce