Do you want to know how to make training videos that engage and educate your audience? You are not alone. With so many video software options on the market, it can be difficult to know where to begin.
But don't be alarmed! We've got you covered with this comprehensive guide to 5 of the best training video software options available today.
Whether you want a simple and inexpensive solution or something with more bells and whistles, we'll help you find the best fit for your needs. So let's get started!
What is training video software and why do you need it?
In today's business and educational landscape, training video software is becoming a requirement. It allows you to quickly create interactive and engaging training videos that can be shared with a large audience.
This software enables users to upload existing materials, such as images and slide presentations, combine them with narration and audio, and then share the finished product online.
Businesses now have a powerful tool at their disposal for creating and sharing knowledge more quickly and efficiently than ever before. Individuals with no professional experience can use training video software to create compelling educational content that effortlessly conveys complex ideas.
Having access to quality training video software can be invaluable in developing your business, whether you are an established entrepreneur or just starting out. You can even make a review and use it as your video testimonial software.
The 5 best training video software available today
Since the days of VHS tapes, training videos have come a long way, and the number of software packages available for creating them has grown exponentially year after year. From comprehensive suites to niche tools, today's training video software developers provide a plethora of features that allow even inexperienced filmmakers to produce professional-quality eLearning experiences.
These 5 training video software packages are among the best on the market for creating engaging and interactive learning content. All provide comprehensive user-friendly designs and a wealth of creative control, making it simple for anyone from complete beginners to audio-visual experts to turn their vision into a tangible reality.
Movavi Screen Recorder
Image Source: www.movavi.com
Movavi Screen Recorder is a simple tool for capturing desktop activity on Mac and Windows. It allows you to record videos, save screen images, and export the results in any format you want, including MP4, AVI, MOV, MKV, GIF, MP3, PNG, BMP, or JPG. Uploading videos to YouTube and Google Drive, as well as sharing graphics via WhatsApp and Telegram, are all export options.
The program supports Intel hardware acceleration, allowing for a smooth and seamless recording process. Because videos are recorded in MKV format, the output video will be of the highest possible quality. When saving files in another video format, you can also use SuperSpeed mode to increase conversion speed.
The application supports Intel hardware acceleration, making the recording process slick and seamless. The output video will be of the highest quality possible because videos are recorded in the MKV format. You can speed up conversion when saving files in another video format by using SuperSpeed mode.
Lessonly
Image Source: www.seismic.com/lessonly
Because Lessonly was created specifically for team training, it stands out from other learning management systems (LMS). The software's appealing design, simple interface, and interactive tools for skill-building all reflect this laser focus. And using it is actually enjoyable, which is essential for retaining busy workers during training.
A mobile-friendly cloud-based LMS, Lessonly is ideal for remote teams. No matter when or how a team works, it supports synchronous and live training to aid in the development of critical skills.
Snagit
Image Source: www.techsmith.com/screen-capture.html
Snagit is a multi-purpose video capture tool that gives users flexibility, has a ton of features to enhance functionality, and combines several programs into one so you can record and edit videos in one location.
Snagit is among the first screen recorders, having assisted users in recording desktop screens on Windows and Mac computers for 30 years.
Since then, Snagit has developed its functionality by keeping up with the tech sector and fusing screen-capture functionality with additional features that serve multiple purposes. The most recent version also includes many additional features, such as the ability to write text over screenshots and recorded videos and make minor edits.
Wondershare Demo Creator
Image Source: www.democreator.wondershare.com
Beginners and even those who have never used video editing before can create training videos using this software. This software enables you to produce interactive online courses, product demonstration videos, and a variety of other types of 4K video content.
This software's most important feature is how user-friendly its interface and all of its features are. It supports screencast in addition to video editing. This implies that you can record anything that appears on your screen, including your webcam, and create a tutorial video by methodically arranging the information.
Captions, overlays, and arrows can be added to instructional videos to improve them. Even colorful stickers are available to enhance the video's clarity and information. It is a great choice for those searching for something affordable with a polished appearance that supports multiple video formats, video stabilization, and noise cancellation.
Animaker
Image Source: www.animaker.com
DIY animation software called Animaker can be used to create a variety of marketing, instructional, professional, or personal videos. The software is entirely web-based, and it's very simple to use.
If you are unsure of how you want your video to look, there are many templates to help you get started, as well as an easy drag-and-drop interface that allows you to add and edit elements. An extensive library containing images, characters, audio, and more is included with its package.
Animaker is a fantastic option if you're looking for an online animation video creator that can create animated videos without taking a lot of time. A subscription-based pricing model is used for this freemium piece of software.
Cincopa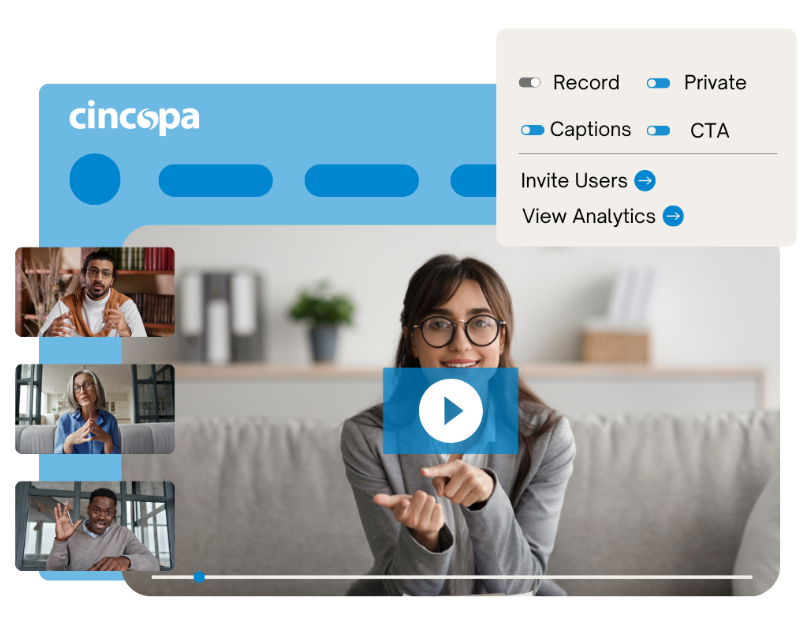 Image source: https://www.cincopa.com/solution/corporate-training
Cincopa was built with team training and onboarding in mind, allowing users to collaborate seamlessly online by uploading all digital assets files and in-platform recording for easy video creation. Cincopa offers multiple galleries and playlists, on-video features, and advanced analytics so you can create engaging content for internal and external audiences. Cincopa's easy-to-use interface allows anyone and everyone to have a fantastic experience all around.
Tips on creating expert training videos
Creating a high-quality training video takes more than just throwing together some footage and calling it a day. To produce an expert-level training video, you'll need to follow some best practices.
Define your goals for the training video
Making a training video requires setting clear objectives to ensure its success. First, determine the purpose of the video, whether it is meant to provide instructional guidance or familiarize viewers with company policies.
Then define what outcomes you'd like the training video to achieve to help guide video production decisions. Ensure that goals are measurable and trackable by establishing specific metrics such as the number of views or survey responses. Each goal should also have a timeline so you can evaluate performance over time. When aiming for success, make sure your goals are measurable, attainable, and realistic.
Select the right software for the job
Once you've decided to create a training video, it's time to get down to business. Fortunately, there are many software programs that can help you do this with ease. Whether you're looking for something simple and straightforward or more powerful and feature-rich, you have a lot of options available.
When selecting the right program for you, consider the features that are most important for your needs. Some programs will have more powerful editing tools or allow for more detailed graphics and animations. Other programs may focus on capturing video quickly and easily or adding interactivity to your videos.
Adding visuals and text.
The next step is to add visuals and text, as well as transitions between different scenes. This can help keep your audience engaged and make sure that your training video is easy to follow. You can also add background music, sound effects, and other audio elements to enhance the overall experience.
Preview and test
Finally, you'll want to preview and test the video before sharing it with anyone else, so you can make sure there are no issues or glitches that need to be fixed. With the right software and some careful planning, you can create professional-looking training videos that will help your audience learn quickly and easily.
Author: Joe Troyer, Founder of Virtual Valley.